Porno Dan and Brill Babes write:
This update is to hopefully clear up some of the rumors, false information and to get let everyone in the adult industry aware of the syphilis situation in Europe.
There are two confirmed positive syphilis cases in Europe and a very large number of first-generation exposure
…read more
Pornlaw tweeted this a little while ago about a possible Syphilis Outbreak In Budapest
This Post Syphilis Outbreak In Budapest ??? Michael Fattorosi Says 1 Confirmed appeared first on TRPWL.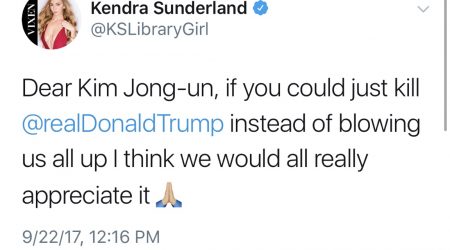 One more porn chick saying stupid shit…
Any idea what would happen to the world economy if the President of the Free world was assassinated? Not to mention that it would be a declaration of war..
You sound fucking stupid openly asking for the death of another human being…
<a class="colorbox" …read more
All-natural Mexican beauty Vicki Chase will be giving her fans a treat today in the form of a naughty, live chat on www.camsoda.com from 7:30pm PST to 8:30pm PST at www.camsoda.com/vickichase.
"I love connecting with my fans online with Cam Soda! …read more
Award-winning adult superstar Joanna Angel is set to release a new BurningAngel Entertainment horror porn title, My Killer Girlfriend, with an early debut via mega-retailer Gamelink.com September 22 ahead of its official release in October.
"This is an incredibly gory and super sexy slasher movie," said Angel. "It's campy and …read more